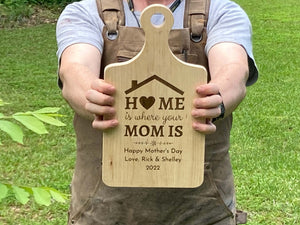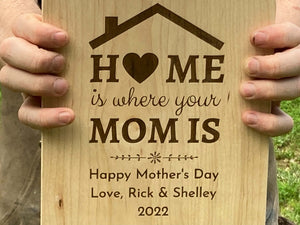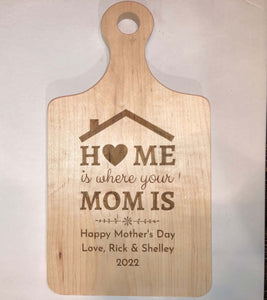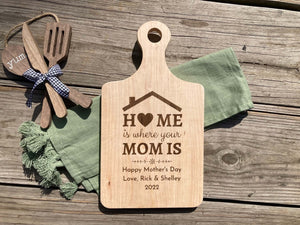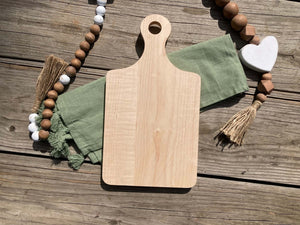 MOTHER'S DAY PERSONALIZED gift,Mom's custom cutting board charcuterie bread board,Best Mother's day Gift Idea,Gift Idea for Her Anniversary
Regular price
Sale price
$24.95
---
-MOTHER'S DAY PERSONALIZED gift,Mom's custom cutting board charcuterie bread board,Best Mother's day Gift Idea,Gift Idea for Her Anniversary-
These Mother's day cutting boards are the absolute best gift idea for the mom or mother in law in your life. These Custom cutting boards are completely hand made. They are crafted and then cut to shape and then Mom's custom cutting board is laser engraved so that your custom saying of love is permanent. Give a gift that she will really love, and one that can actually be used. Imagine, ever time your mother or mother in law uses this custom cutting board she will remember the great gift that you had specially made just for her.
WHY SHOULD YOU ORDER FROM US?
⚫️ Made out of solid maple (Not Bamboo that comes from china and bought in the dollar store like other makers use 😳)
⚫️ 3/4 of an inch thick. These Custom Mother's day boards are designed and made just like all of our other cutting boards. They are made to show your love and to be a great and practical gift.
⚫️ Made in the USA. We don't offer imported products. All of our items are hand made in East Texas, USA.
⚫️ Completely Customizable and Personalizable. Order your board with or without custom names added to the bottom. *Please add the names that you would like to be printed on the board in the "Personalization section" of the order. If you have questions please feel free to reach out to us here.
◎How to order
1. Add the names you would like to be engraved onto the board in the personalization area. (Please note * You must add these exactly as you want them to appear. I will copy and paste the exact words you use into the program. No refunds will be issued if you misspell the names.)( If you would prefer the board to come without the names on it please type in "NO NAMES" in the personalization section. Then you will get a board with the main design but with no names) IF you want the board completely blank without any design or names then type "BLANK-NO Design" and you will get the board without any engraving at all.
2. Click the add to cart button.
3. Check your email for an order confirmation from us as well as an additional email the first business day following your order. *Please Check your spam/junk folder as well
⚠️ Please note, that due to the turnaround time on these orders I can not offer proofs before the order is complete. Please be certain to spell your names exactly as you would like them to appear. ⚠️
◎ DIMENSIONS
These Mother's Day Custom Personalized Cutting boards measure approx 13"tall by 7" wide by 3/4" thick.
*Please understand that these boards are hand made and that they are natural wooden products. Some slight variations in measurements may occur.
◎ FAQ's
1. Are these real cutting boards?
Answer- Absolutely! Granted, you might prefer not to cut on the laser engraved side of the board. However, the back side is perfectly fine to use as a real cutting board.
2. What makes these different than other boards that are cheaper?
Answer- The best way to tell the quality of a cutting board is to look at two things; the type of wood used and the thickness of the wood. These Mother's day Cutting Boards are made out of American Hard Maple wood. This is a Hardwood that is locally sourced from a local wood mill. Most of the laser engraved cutting boards available are made out of Bamboo, which is either bought from the dollar store or bought online from a chinese wholesaler. Nothing says real love and quality product like Dollar store and Chinese...right...right..? Ok, no. Secondly, these mother's day cutting boards are 3/4 inch thick. Compare that with the .25" bamboo boards available and the difference in quality is easily seen. Lastly, and as an extra these custom personalized boards are really and truly hand made. We joint pieces of Lumber together to make sections wide enough. Then we plane them down and make them straight, and get them to the right thickness. Finally we shape them from square pieces of lumber. This is made so that you can really have a one of a kind gift to give.
3. Do I have to do anything special to clean the board?
Answer- Yes! Because these are the real deal Mother's day cutting boards they need to be occasionally re oiled with food grade cutting board oil. This is inexpensive and is available most everywhere. If you would like a specific suggestion, just message me and I will send you a link that will show the best stuff to use. And, please do not put this in the dishwasher. Only wash it with mild soap and hand dry. Putting in dishwasher or allowing it to remain wet for long periods of time may damage the board.
4. This is great from Mother's day, but do you offer anything for Father's day gift ideas?
Answer- Yes, we are constantly updating and adding new items all the time. If you are in the market for a BBQ cutting board, or a charcuterie board please reach out to me. Also, if you would like this or anything made in a different type of wood i can help with that as well.
5. What can I expect if I order with you.
Answer- Generally you can expect a couple of emails both confirming your order and then giving you all the details such as; how long it will take to complete, any questions we may have. Before your order is complete we will reach out with a picture so that you can see it. And of course you will receive tracking info and such when it ships.
6. Can I order more than one?
Answer- Absolutely. If you do please let me know.
7. Can I get my Mother's day Cutting Board rushed?
Answer- Yes, well sorta. These are hand made, so I can't really rush that. I can upgrade the shipping if needed but it would be a separate charge that you would need to pay. *Please understand that I am not responsible for shipper errors or delays.
8. Can I get something different on the board other than the main image?
Answer- Yes. These particular boards were designed as mother's day custom cutting boards. But if you want something different we can do that as well. However, please understand that designing something different will cause the board to take longer to be made. I wish it didn't but it just does. However, with that being said some of our best gift ideas and designs have come from you! So please don't be shy about asking.
Thanks so very much for checking out our listing. Our Motto at Sawyer Custom Crafts is - Building.Life.Together.
------------------------------
Don't forget that these also make great: CHRISTMAS GIFT's, Realtor Gift ideas, MOTHERS DAY GIFT, BIRTHDAY, CUSTOM CUTTING CUTTING BOARD, FROM DAUGHTER TO MOM
FROM KIDS, FROM SON, GIFT FOR MOM, GIFT IDEA FOR MOM, MOM RECIPE, MOMMY GIFTS, PRESENT FOR MOM,
PRESENT IDEA,
BAMBOO CUTTING BOARD, CHARCUTERIE , CUSTOM MOTHERS DAY, CUTTING BOARD, FROM GRANDKIDS, GIFT FOR GRANDMA,
GIFT FOR MOM, GIFT FROM KIDS, MOTHERS DAY MOTHERS DAY GIFT
PERSONALIZED PERSONALIZED GIFT
YOU ARE SO LOVED
BREAD BOARD CHARCUTERIE BOARD
CUSTOM CUTTING BOARD CUTTING BOARD
GIFT FOR HER GIFT FOR MOM
GRANDMA GIFT MOM BIRTHDAY MOM CHRISTMAS GIFT
MOMS KITCHEN MOTHERS DAY GIFT
PERSONALIZE GIFT PERSONALIZED GIFT
- Free shipping