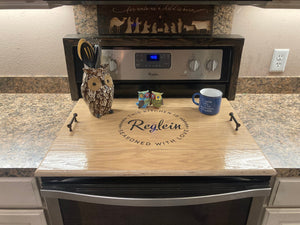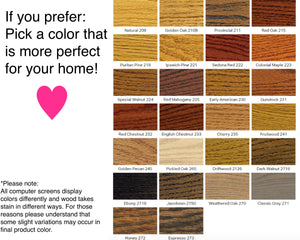 Noodle Board, Farmhouse Stove Top Cover, Wooden Stovetop Cover, Serving tray, Rustic Stove Cover, Modern Decor, Country theme, Counter Space
Regular price
Sale price
$119.00
---
Wooden Stove top Cover Noodle Board. Serving Tray. The standard size for this wooden stovetop cover is 30 inches wide by 22.25 inches and stained in any of the available colors.
This Stove top Cover, Noodle Board is the newest addition to our Farmhouse Collection. It is a wonderful way to enhance your kitchen decor and reclaim some much needed Kitchen storage space. Many people also use these wooden stove top covers as wooden serving trays or some have even liked them so well that they hung them as a sign or used as an ottoman tray.
This Noodle board is stained in a beautiful color of your choice with your preferred name or saying encircled in words that say " this Kitchen is Seasoned With Love"
This stove cover makes a great gift for Christmas, Anniversary, Weddings, Fall, Autumn, House warming, Newlyweds, or simply for yourself. It pairs great with a matching spice rack shelf and Appliance Decal. See store for listings or even better, send me a message so we can discuss the details.
----Our Process:----
It starts out with premium quality Red Oak cabinet grade Materials. The oak will not warp or sap like pine boards that are nailed together have a tendency to do, and since it is a hardwood ply it is much more resistant to scratches than others.
The board is cut by hand, either to a standard size of 30 inches by 22.25 inches or the wooden tray can be adjusted to whatever size you need to perfectly fit your appliance.
Then it is finished to specifications. Most folks prefer to stain their boards. That allows for both a color and the beauty of the board itself to still show through. After it cures artwork is painted on. We have found that vinyl peels off after a little use and painting although is much more labor intensive produces a much more quality product. Three coats of high quality protectant are applied to it so that it will be protected and sealed. Finally , premium grade handles are installed on all of our stove top covers.
This Noodle Board is simple, elegant and classy - with a Farmhouse Twist :) and will make any Kitchen stand out.
If you have any questions, or if I can help in anyway please send me a message.
As with all wood products this is not intended to be used on a hot surface as that may damage the finish and possibly cause other problems and dangers. Also, this is decorative and not to be used for food preparation. But, it will give you away to reclaim some of that counter space.
Have a great day and thanks so very much for stopping by.
We have many others in our shop as well or, we would love to help create something unique and beautiful just for you.
https://www.etsy.com/shop/SawyerCustomCrafts?ref=seller-platform-mcnav
*****How to order.
1. Select your preferred stain color from the drop down menu at the top right of the screen. *The color of the board in the main image is Ebony*
2. Type what word you would like displayed in the middle of the circle.
3. Click add to cart
4. Follow the prompts to complete your order.
Be sure to check your email for any communication from us regarding your order.
Thanks so much for stopping by :)
personalized Gift, home décor, Farmhouse Décor, Housewarming Gift, home, Monogram, kitchen décor, Farmhouse Wall Décor, Farmhouse SVG, Farmhouse, vintage décor, Farmhouse Sign, Serving Tray, Home Décor Farmhouse, Farmhouse Coffee Table, Farmhouse Table, Modern Farmhouse, Noodle Board, Farmhouse Kitchen Décor, Stove Top Cover, Farmhouse Bathroom, Stove Cover, wooden tray, Sink Cover, Oven Cover, farmhouse tray, wood serving tray, Cover, rustic wood tray, stovetop cover, cover for stove top, Family Name Décor, Initial Décor, Monogram Décor, mother's day, oven tray, Primitive Farmhouse, Shower Gift, stove top tray, tray for stove top, wooden tray stove, Vintage Farmhouse Noodle Board Stove Cover - Wooden, Rustic, Décor, Kitchen Storage
personalized Gift, home décor, Farmhouse Décor, Housewarming Gift, home, Monogram, kitchen décor, Farmhouse Wall Décor, Farmhouse SVG, Farmhouse, vintage décor, Farmhouse Sign, Serving Tray, Home Décor Farmhouse, Farmhouse Coffee Table, Farmhouse Table, Modern Farmhouse, Noodle Board, Farmhouse Kitchen Décor, Stove Top Cover, Farmhouse Bathroom, Stove Cover, wooden tray, Sink Cover, Oven Cover, farmhouse tray, wood serving tray, Cover, rustic wood tray, stovetop cover, cover for stove top, Family Name Décor, Initial Décor, Monogram Décor, mother's day, oven tray, Primitive Farmhouse, Shower Gift, stove top tray, tray for stove top, wooden tray stove, Vintage Farmhouse Noodle Board Stove Cover - Wooden, Rustic, Décor, Kitchen Storage